PRODUCTS
Product Information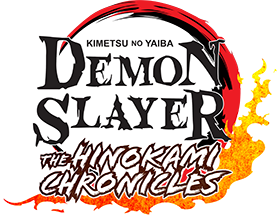 Limited Edition Original Figurine Device Stand Version
Contents
"Demon Slayer -Kimetsu no Yaiba- The Hinokami Chronicles" Game

"Demon Slayer -Kimetsu no Yaiba- The Hinokami Chronicles" Original Figurine Device Stand

Digital Content Product Code

Character Unlock Key for
Character Unlock Keys for Kimetsu Academy Tanjiro Kamado, Kimetsu Academy Nezuko Kamado, Kimetsu Academy Zenitsu Agatsuma and Kimetsu Academy Inosuke Hashibira
Set of 13 Avatars
Tanjiro Kamado, Nezuko Kamado, Zenitsu Agatsuma, Inosuke Hashibira, Giyu Tomioka, Shinobu Kocho, Kyojuro Rengoku, Sakonji Urokodaki, Sabito, Makomo, Murata, Tanjiro Kamado (Hinokami Kagura) and Tanjiro Kamado (Final Selection)
In-game costumes - Butterfly Mansion Patient Wear for Tanjiro Kamado, Zenitsu Agatsuma and Inosuke Hashibira
In-game points (8,000 Points)
"Demon Slayer -Kimetsu no Yaiba- The Hinokami Chronicles" Theme
"Demon Slayer -Kimetsu no Yaiba- The Hinokami Chronicles" Dynamic Custom Theme
Points to note
If you already own the physical PS4® version of this game, you can upgrade to the PS5™ version at no additional charge.
(Owners of the physical version who have a digital edition PS5™ with no disc drive will not be able to upgrade.)

Avatar illustrations are based on the in-game 3D models created by CyberConnect2.

Character Unlock Keys allow immediate access to play as the indicated characters in Versus mode.

In-game points can be exchanged for various items and rewards.
(8,000 Points equates to being able to unlock 2 characters.)

In-game costumes can be used in Versus Mode as well.

Themes, including the Dynamic Custom Theme, will not work on the PS5™. Please download from the PS4® PlayStation®Store.

Save data and trophies cannot be shared between PS4® and PS5™ versions.

A paid subscription to PlayStation®Plus is required to play Versus Mode online.

The latest patch is required to access online play.

Products codes will expire one year following the game's release.
Bonuses obtainable from these product codes may be offered at a later time.

The content/specs may change without warning.